Richie Spice launches Black Man Time
As renowned reggae artiste Richie Spice celebrated his 52nd birthday he flipped the script by offering a gift in the form on an album to his fans.
Titled Black Man Time the 14-track project is being distributed by VPAL Music, a subsidiary of VP Records.
"The whole inspiration is to keep the music alive, and not just for entertainment, but keeping the music alive and keeping the real, authentic reggae music in the same format as what it was in the beginning until now," he told the Jamaica Observer.
"This is a project from me — Richie Spice Music presenting this album to the people… giving the people this album as a gift for my birthday," he added.
The artiste described his 10th studio album as a "preservation of the music" more than just entertainment.
Richie Spice, whose real name is Richell Bonner, is widely known for hits such as Grooving My Girl, Brown Skin, and The Plane Land.
His new album sees him collaborating with several compatriots including Capleton, Louie Culture, Charly Black, Pliers, and Spanner.
Black Man Time also incorporates covers of old classics which the singer said added flair to the album that was five years in the making.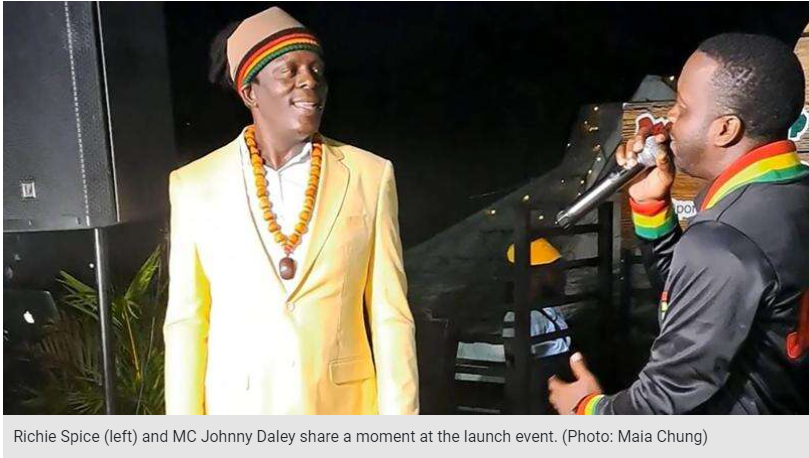 His launch party and earth strong celebration brought accolades from Jamaica Reggae Industry Association (JaRIA) boss Ewan Simpson, who spoke about the reggae hitmaker's impact on the local and global music industry.
"In this Black Man Time now, we released this one and made it so unique… I never covered so many songs before. I have about three cover versions on it. I've never done so many combinations on an album before. I covered a song called Johnny Too Bad — that's a song that's always on my stage shows, and another one called Satisfaction that I always sing on my stage shows, likewise. So, I figured that now is the time to put them together as part of my project," he explained.
Added Richie Spice: "All Night Long is a song I always listen to as a little kid growing up. I did my research and found out that Lionel Richie was trying to tap into the reggae market… I woke up, and about two to three weeks the song just inna mi head, so mi seh mi aguh mek it be a part of this."
Richie Spice recorded his first song, Killing A Sound, produced by Dennis "Star" Hayes, in 1994. He followed up with Shine, produced by Clive Hunt.
Richie Spice also teamed up in 1995 with Hunt for his debut album Out of The Blue, on the Island Jamaica label.
With some 200,000 followers on Spotify and approximately 435,000 monthly listeners on the platform, already, hits like Brown Skin, Youth Dem Cold, Earth a Run Red, and Marijuana allow the artiste to reach 4.97 million listeners thanks to playlists. On YouTube Richie Spice averages two million monthly views, and on Pandora (only available in the US) he averages 129 million streams.
More Posts for Shows:
High Frequency w/ Alaine Laughton
,
Home Run w/ Deon Mattis