Six Table Talk Food Awards Scholarship recipients named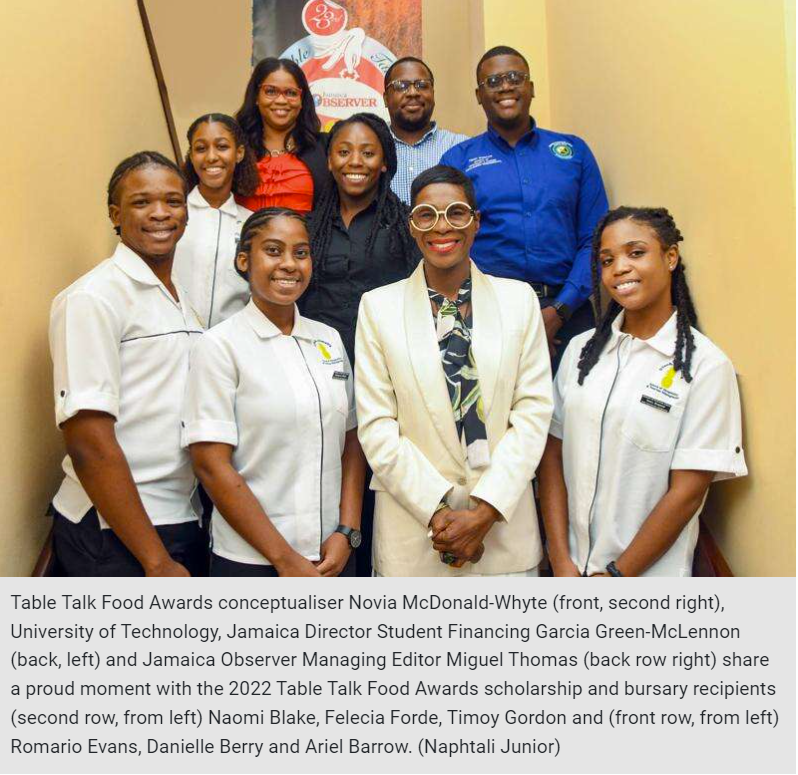 Six final-year University of Technology, Jamaica (UTech) School of Hospitality and Tourism Management students were on Tuesday presented with Jamaica Observer Table Talk Food Awards scholarships and bursaries as the event marks its 23rd anniversary.
"You don't just represent the School of Hospitality and Tourism Management (SHTM), you bear the crest of the Jamaica Observer," the newspaper's Managing Editor Miguel Thomas told the recipients.
The scholarships and bursaries come courtesy of The Jamaica Observer Table Talk Food Awards Committee and its chair Novia McDonald-Whyte.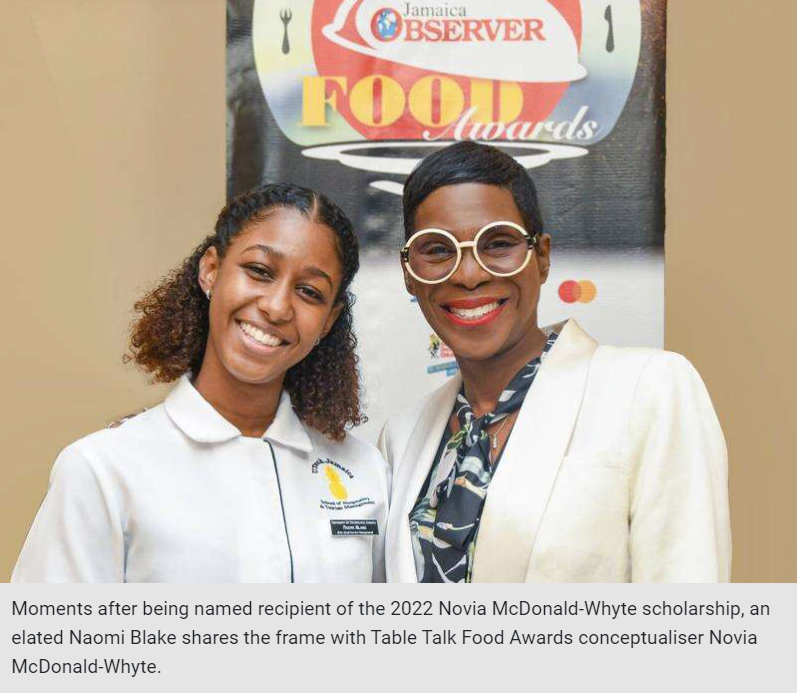 The six spent the afternoon sharing their triumphs, defeats and bouts with grief while expressing their hopes and plans for the future. They all agreed that the scholarship would undoubtedly alleviate financial burdens and help them focus on stepping into greatness.
Future food photographer and stylist Naomi Blake earned the Novia McDonald-Whyte Scholarship after an impressive conversation-style interview with the judges. The self-proclaimed "foodie" took the panel — Thomas, McDonald-Whyte, and UTech Director Student Financing Garcia Green-McLennon — on her journey from a reserved freshman to a self-assured student who now knows exactly what she wants.
Though Felecia Forde shed a few tears while reflecting on the year she pressed pause on her studies to work and clear debts she had accrued at UTech, her bubbly personality and way with words were admirable.
Danielle Berry's grades were equally as impressive as her passion for food research and innovation, while Romario Evans, though he appeared sheepish, proved why he was a beast in the kitchen.
Bursaries were awarded to the SHTM Student Representative Timoy Gordon and 'A' student Ariel Barrow.
A feature of the scholarship programme is automatic placement as part of the crew for the annual awards scheduled for September 29 at Devon House.
As she wished the students well, McDonald-Whyte said, "Your competitive advantage is what will set you apart from the rest…we are investing in you, but you must invest in yourself. Knock the box down. Be creative. Be exceptional. Read. Knowledge is power."
More Posts for Shows:
High Frequency w/ Alaine Laughton
,
Home Run w/ Deon Mattis