Kevin Hart Invests In Black-Owned, Jamaican-Inspired Ellis Island Tea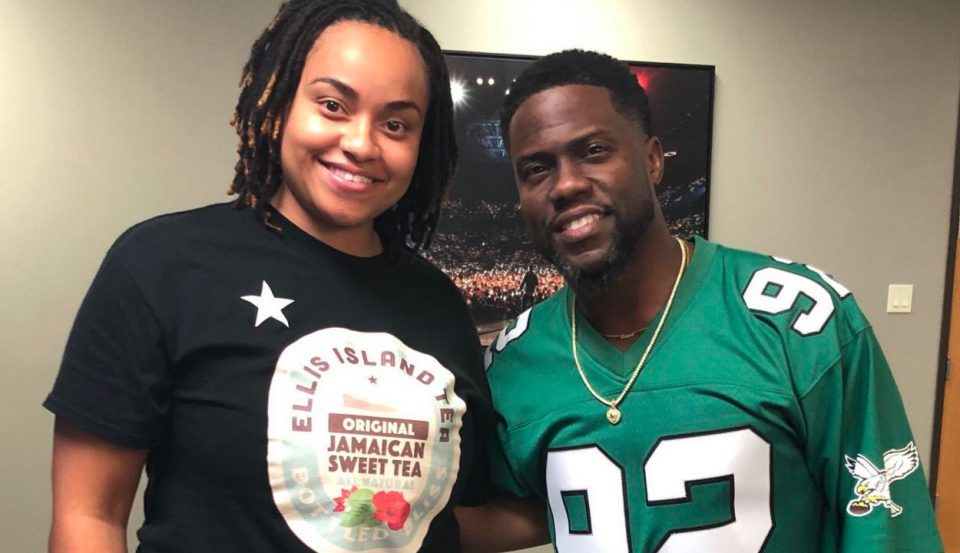 Successful comedian and entrepreneur Kevin Hart has partnered with Nailah Ellis by making an investment in her Black-owned Ellis Island Tea company, according to a press release.
The company brews its beverage in Detroit with a recipe inspired by Ellis' Jamaican roots. The company's Jamaican Sweet Tea and Jamaican Herbal Tea are already sold in select Sam's Club stores, Costco, and select airport concessions around the country. Starting this month, the beverage will be distributed in Walmart and will soon be in CVS and Target.
"There were a lot of people pulling for Nailah," said Hart. "Her name just kept coming up and coming across my radar. So, I figured there had to be something to it."
That something is Ellis Island Tea, an all-natural beverage handcrafted from a recipe inspired by Ellis's Jamaican great-grandfather, who came to America through Ellis Island more than 100 years ago. The tea is made with hibiscus, which makes it rich, red, smooth, and flavorful.
Ellis started at the age of 20, brewing tea in her mother's kitchen and selling it from the trunk of her car around Detroit. Ellis now has her own Detroit beverage production facility and is the largest Black female beverage manufacturer in the United States.
Ellis says she owes her success to the man who inspired the recipe for Ellis Island Tea—her great-grandfather Cyril Byron.
"Cyril's story is one of a true risk-taker. He came here with nothing but his dreams," Ellis said. "He went on to become a head chef on Marcus Garvey's Black Star Line and then the owner of Byron Caterers, one of the most successful Black-owned catering businesses in the Bronx."
Hart, no stranger to starting from nothing to become successful says, "You're supposed to set up for the next generation…if you're not doing that, you're not doing your part."
"We all need opportunity," Ellis said. "I've been given mine and now I'm paying it forward and providing that for others."