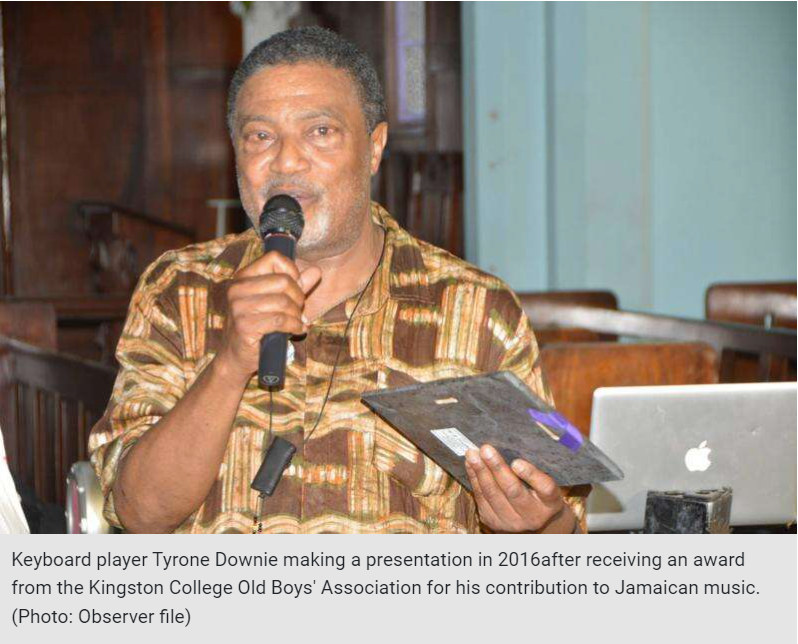 Manager of The Wailers, Lennie Chen, said Tyrone Downie had been expected to play a key role in the band's latest album, but illness prevented the veteran organist from doing so.
Chen spoke to the Jamaica Observer on Monday, a day after Downie's cancer-related death in Kingston at age 66.
"We were looking forward to having him come here [Miami] to record the album which we are sure is going to win a Grammy but he was too weak to travel," said Chen, who knew Downie since 1977.
The Wailers, led by Aston Barrett Jr, are currently recording an album at the studios of Emilio Estefan of Miami Sound Machine fame. Estefan and Barrett are co-producers of the yet-to-be titled set which is expected to be released in December.
Downie joined Bob Marley and The Wailers in 1974 following the release of their Natty Dread album. In 1975, he toured Europe with them and performed on their epic shows at the Lyceum Theatre in London which were recorded for the Live! album, released by Island Records that year.
Chen said Downie last played with The Wailers in 2019 in Canada. He described the loss of his friend of 45 years as "a tough one, a tough pill to swallow".
Born in Kingston, Tyrone Downie was among a group of young musicians who helped put reggae on the international map during the early 1970s. Others included fellow keyboardist Bernard "Touter" Harvey, drummer Sly Dunbar, bassist Robbie Shakespeare and guitarist Earl "Chinna" Smith.
Before his 21st birthday, Downie played on albums that are considered seminal works — Rastaman Vibration by Marley, Legalize It by Peter Tosh, Bunny Wailer's Blackheart Man, and Marcus Garvey by Burning Spear.
In the past 15 years, he toured and recorded with a number of acts including The Wailers, Julian Marley and Youssou N'Dour.
More Posts for Shows:
High Frequency w/ Alaine Laughton
,
Home Run w/ Deon Mattis