AS his casket entered University Chapel in St Andrew yesterday, the strains of Sata Masa Gana welcomed Ibo Cooper on his final journey. As his family led the procession out three hours later the former Third World member's colleagues bade him farewell with Rasta Man Chant and Redemption Song.
Throughout the service speakers paid tribute to lbo the Renassiance Man, an insecure country boy who came to Kingston during the early 1960s for a government scholarship at the elite Jamaica College (JC).
They recalled his unyielding love for family, undying passion for music, and a commitment to the less fortunate that he passed on to his four children. Three of them, Arianne, Akiri and Abean, were present to salute their father who died on October 12 at age 71.
It was the siblings' third service for the year, having lost older brother Arif in March and their mother Joy in September.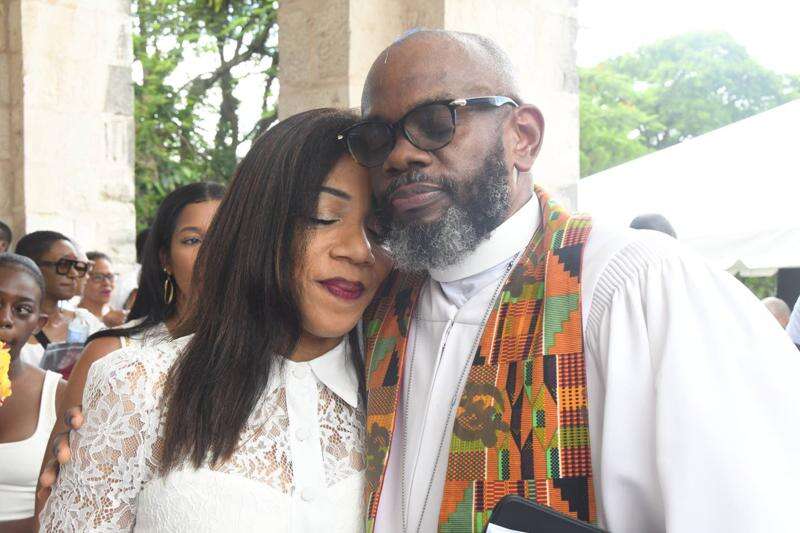 Each gave tearful homage to their father, a co-founder of Third World and who became a senior teacher at Edna Manley College of the Visual and Performing Arts after leaving that band in 1997.
Akiri, the youngest of Ibo's children, spoke about his old man's dedication to three tenets — intelligence, benevolence, and obedience — and how he always made time for Joy, his wife of 50 years.
"He never missed an anniversary, never missed an opportunity to show her his love. I won't say rest in peace, rather romance in paradise," he said to rousing applause.
Singer Fabian Pinkney did a fabulous rendition of Donny Hathaway's A Song For You, which Ibo requested to be played as an expression of his love for his wife.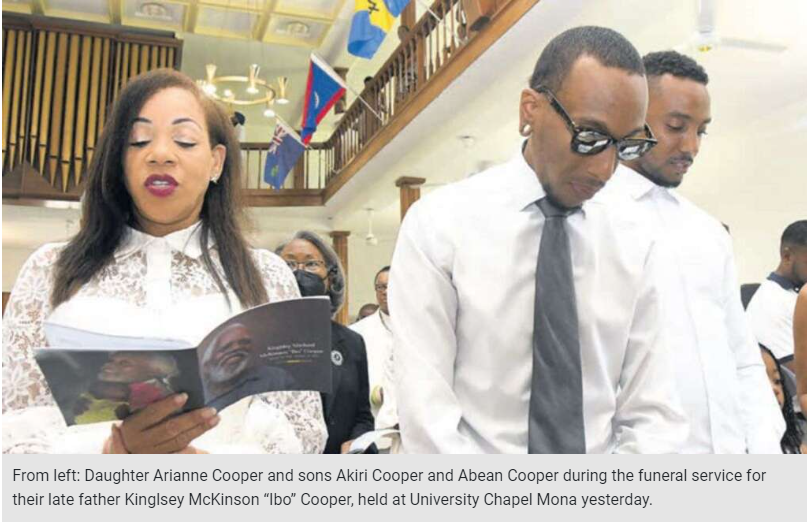 Tributes also came from businessman Tony Lewars, Ibo's schoolmate at JC, who remembered his prodigious musical and scholastic talent. Mark Golding, leader of the Opposition People's National Party, who spoke of his love for Third World and admiration for Ibo's conviction to Jamaica and yearning for a disciplined society; and Entertainment Minister Olivia Grange (represented by state minister Norman Dunn) who acknowledged his valued role as an advisor, also paid tribute.
Dorett Campbell, interim principal at Edna Manley College of the Visual and Performing Arts, and Dr Robert Williams, who was once a senior lecturer there, also recalled their personal and professional interaction with Cooper.
Guitarist Stephen "Cat" Coore, who co-founded Third World with Cooper, described him as a "dear, dear friend" before leading the Grammy-nominated band in their rendition of Dreamland.
Drummer Willie Stewart and bass player Richie Daley, members of the classic Third World line-up of the 1970s and 1980s, also paid tribute to their late colleague.
The service was officiated by Reverend Astor Carlyle and three priests from the Ethiopian Orthodox Church — Kes Haile Mikael Brissett, Kes Mattewos Grant, and Kes Ze Dingel Greenland.
Also in attendance were Roger Lewis, Ian Lewis and Bernard "Touter" Harvey of the Inner Circle band; Ewan Simpson, chairman of the Jamaica Reggae Industry Association (JaRIA); and former Third World Manager Copeland Forbes.
More Posts for Shows:
High Frequency w/ Alaine Laughton
,
Home Run w/ Deon Mattis